Cover in cotton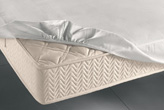 TERRA provides a natural cure for column discomfort thanks to the exclusive mattress cover in cotton fibres interwoven with special fibres for mechanical support and the innovative technology of carbon threads. This avant-garde mattress cover gathers the whole structure and has the function of channelling the electric conductivity towards definite points of the bed, so that it is naturally conducted to the ground.

Owing to the massive accumulation of electric potential in the surrounding environment, our body has lost its natural electromagnetic balance and this causes continuous muscle spasms also during the night, when we should be relaxed. Many possible cures have been proposed to prevent harmful potential accumulation in the organism but nothing has never been as effective as the mattress cover in cotton and carbon fibre TERRA.

The principle of operation is based on the natural balancing of potentials that occurs when a body with high potential approaches a body with low potential: the electrical charges are attracted, the charge is released and the organism recovers its electric stabilization.

This is the principle on which TERRA provides effective cures for any kind of muscle and back pain: the cover in cotton and carbon fibres is a natural conductor of electricity. Free from electric charges, the muscles relax, the body assumes a natural posture that prevents any pain in the spinal column and muscle bands.

TERRA's innovative mattress cover in cotton and carbon fibres cures at the root the causes of any muscular and spinal pathology.